2022 Meyen Lecture on special education to feature Dr. Joan McLaughlin
---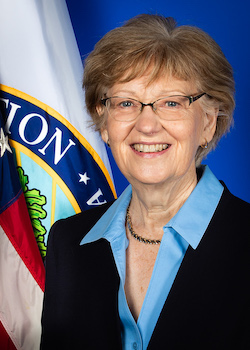 LAWRENCE - The Department of Special Education will welcome Joan McLaughlin, the Commissioner of the Institute of Education Sciences National Center for Special Education Research (NCSER), to present at the Edward L. Meyen Distinguished Lecture Series. 
The 2022 event begins with a casual reception at 4:00 p.m. on Thursday October 20th at Arterra Event Gallery, with the formal lecture to follow shortly after. The event is free and open to the public. 
McLaughlin's lecture is titled, "Celebrating Special Education Research and Some Next Steps". Dr. Michael L. Wehmeyer, Ross and Marianna Beach Distinguished Professor in Special Education, the Chair of the Department of Special Education, Director and Senior Scientist at the Beach Center on Disability says: "Dr. Joan McLaughlin is one of the most important leaders in the field of special education today and has been a calming force during tumultuous times. The Department of Special Education is honored to have Dr. McLaughlin in Lawrence to deliver the Meyen Lecture."
Dr. McLaughlin received her Bachelor's degree in Psychology from the University of Notre Dame and her Master's and Doctoral degrees in Developmental Psychology from Cornell University.  From 2009 to 2013 she served as Deputy Commissioner of NCSER, as well as Program Officer for the Early Intervention and Early Learning in Special Education research portfolio. Prior to joining IES, Dr. McLaughlin spent 16 years working in the Education and Family Services area of Abt Associates Inc., where she led numerous evaluations of Federal education, food assistance, and early childhood programs. Dr. McLaughlin has also served as a Program Officer in the Office of Analysis and Evaluation at the USDA's Food and Nutrition Service, where she oversaw studies of programs and initiatives focused on maternal and child health and child nutrition 
The Edward L. Meyen Distinguished Lecture Series addresses cutting edge issues that impact people with disabilities including education, families, research, and instructional resources. Endowed by Stan Love of the Love Publishing Company, this lecture series honors the enduring legacy of Professor Edward L. Meyen who provided leadership for learning and innovation throughout his career at the University of Kansas.
The #1 public ranked Department of Special Education is housed in the KU School of Education and Human Sciences. The School of Education and Human Sciences is located in Lawrence, Kansas and is also a nationally-ranked school, preparing educators as leaders.
Please RSVP for in person attendance. If you would like to attend via Zoom, registration is required.